COVID-19 & Influenza Vaccination Clinic Nov 19th Pinon Health Center 9:00am to 2:00pm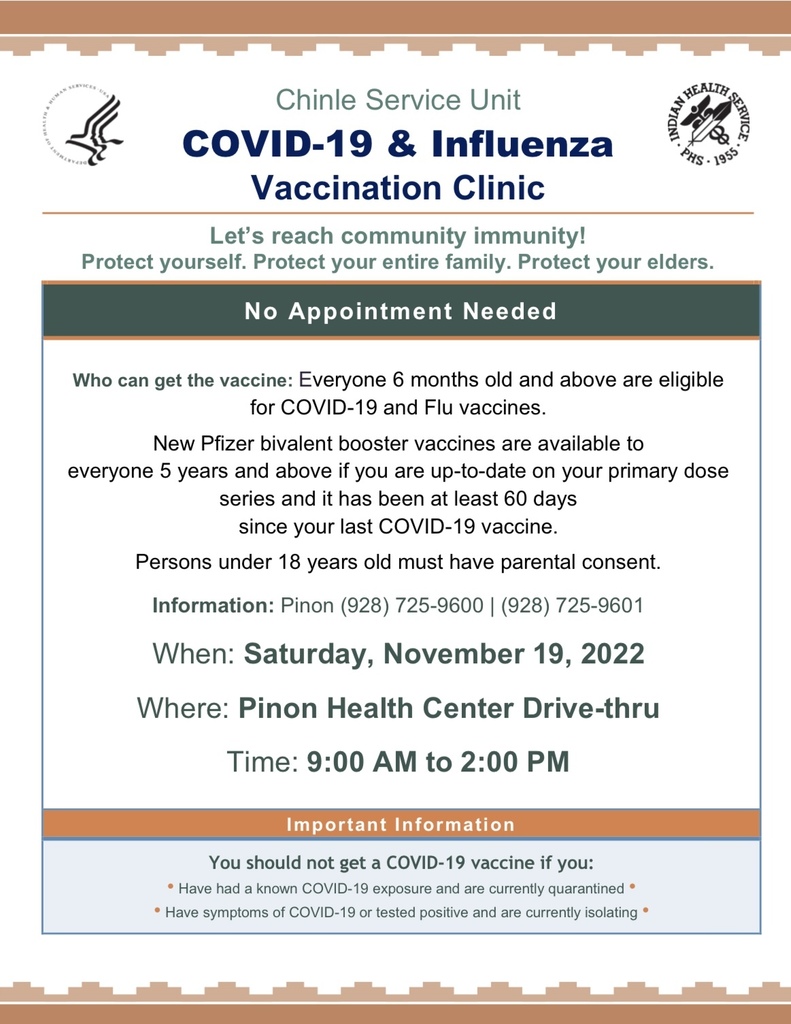 Pinon Unified Community, Mud Day--There will be no school on Thursday, November 10 due to adverse weather tonight and muddy road conditions. Students and 10-month staff will be off for the day. Staff on 11 or 12-month contracts report to campus. Be safe, keep warm and stay dry!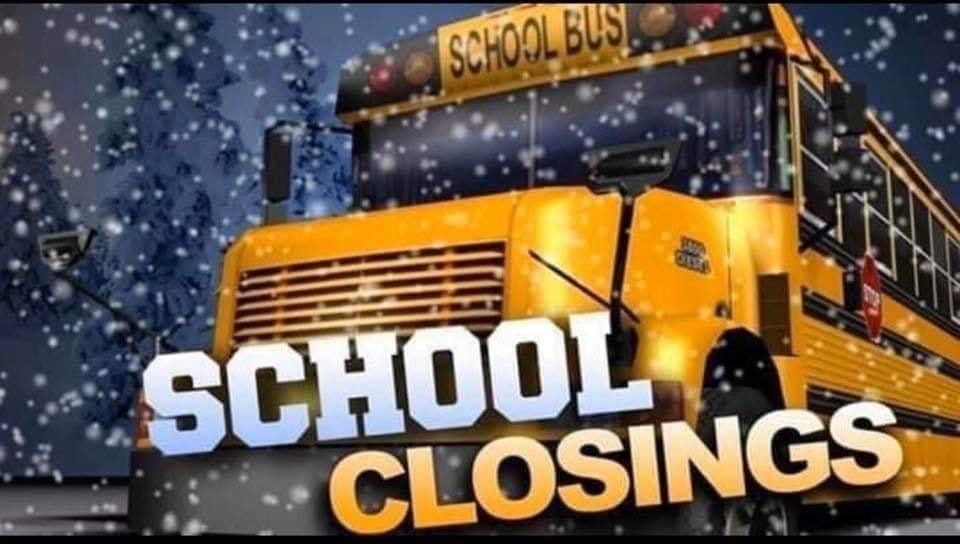 Greetings Pinon Unified Community, PUSD will have school on Friday, September 23 with buses running on the mud route schedule, main roads only. A reminder that Fridays are on the early release schedule with no activity buses. Thank you and have a great evening!

Greetings Pinon Unified Community, There will be no school on Thursday, September 22 due to the heavy rains and many road washouts in our area. It will be a mud day for students and 10-month staff. Be safe and stay dry!

Yá'át'ééh, Join the JOM Indian Education Committee and Diné Studies Program for the 1st Diné Stories & Teachings Night of the School Year. Our presenter is Mr. Roberto Nutlouis, a Food Sovereignty advocate who dedicates his work to his home community of Pinon. Mr. Nutlouis provides a youth training program, reconnecting youth to dry land farming techniques as well as integrating concepts of Indigenous permaculture into his family's farming plot. Hear about the great work that is happening in our local Pinon community. K'i'dilyé dóó Kéyah Baa Áháyą́ Dryland Farming and Land Restoration on Dził Yíjiin August 18, 2022 5-6:30pm (Mountain Daylight Time/Daylight Savings Time) Join Zoom Meeting
https://us02web.zoom.us/j/82009358461?pwd=RDRNN05hOFE5K01KdVlwZDkrZDVRZz09
Meeting ID: 820 0935 8461 Passcode: Eagles Please complete the following survey at the end of the session:
https://www.surveymonkey.com/r/WQKJNQD
. Have a wonderful week and please stay safe when traveling the roads this monsoon season.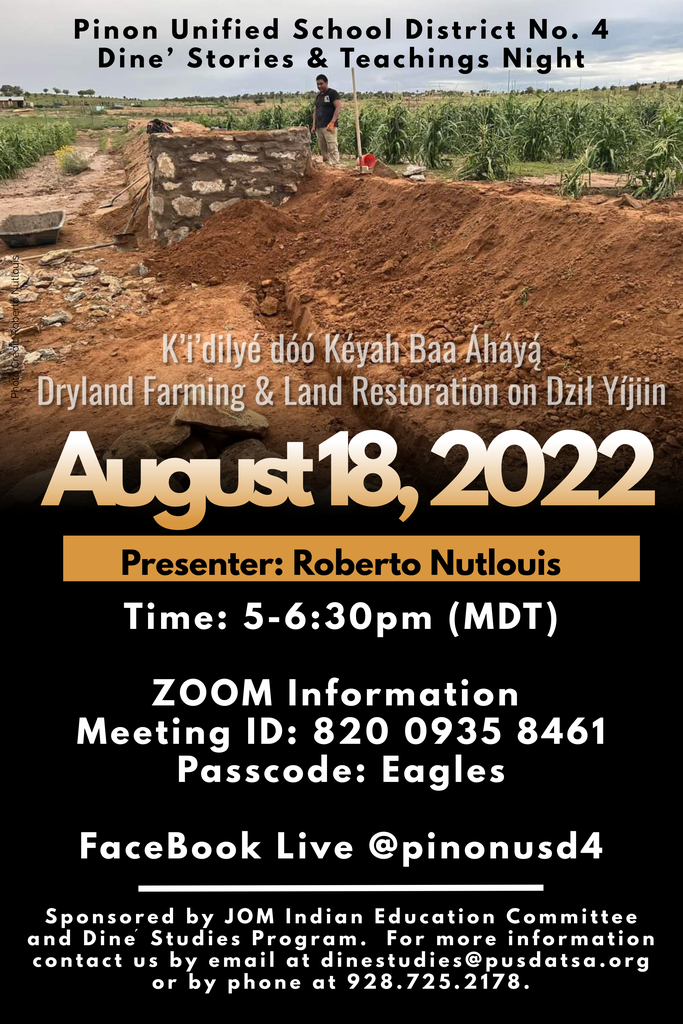 Greetings to PUSD Community, The We R Family event for this evening will be rescheduled to August 30, 2022. We have rescheduled in respect for the ceremony that was conducted today for our school community because of the lightning incident yesterday. We want to extend our appreciation to IHS' Office of Native Medicine Program for assisting our school district in having this ceremony conducted before students return back to campus tomorrow. I would like to extend my appreciation to the PUSD Admin team for their support in having this ceremony and how they considered all students, staff and community members in a positive way. I would also like to express my appreciation to everyone that assisted today, community members that attended, and for the donations we received that were offered for this cleansing ceremony. We apologize for the short notice on this ceremony that was done today, but wanted to ensure this was done before students returned back to school. If there are any questions to this, you may contact me as your District Family Involvement Coordinator at
lbecenti@pusdatsa.org
or at my work number of (928)725-2129. Please continue to be safe during this monsoon season and we look forward to a great school year. Ahehee' Leland L. Becenti, MSW Family Involvement Coordinator Pinon Unified School District #4

Greetings PUSD Community, Due to the report of the Lightning Incident, PUSD has arranged through the Office Of Native Medicine for a Navajo Practitioner named Leroy Nelson to perform a ceremony at our school Hogan at 1:00pm today. This will allow our school district the opportunity to have this cleansing ceremony performed before students return back to school. We understand this is short notice for many, but we still want to extend an invitation for those that want to participate. PUSD is appreciative that we were able to get a hold of the Navajo Practitioner on short notice. We will be following CDC guidelines and not everyone will be able to be inside the Hogan at one time when the ceremony is being conducted. But we want ensure you that this ceremony is open to those interested and for those that may want to utilize the herbs that will be used. We appreciate your patience in this matter. Thank you and have a great day!

Greetings PUSD, There will be no school on Tuesday, August 16 due to the road damage caused by heavy rains this afternoon and more rain possible this evening and tomorrow. This will be mud day #3. There was also a report of a possible lightning strike on campus. We are investigating and will take the appropriate actions before school resumes. Thank you and have a good evening.

Greetings Pinon Unified Community, Drive Thru Vaccination opportunity to the community of Pinon, Az. COVID-19 Community Vaccination Event at Pinon Unified School District Office on August 3, 2022 from 4:00 pm - 07:00 pm. COVID-19 Vaccinations Available from ages, 6 months and older. Persons under 18 years old must have a parental consent. Talk to your health care provider, if there are any questions on COVID-19 vaccines or any other vaccines. For more information, call PHC at (928) 725-9600 or (928) 725-9601 Thank you Pinon Health Center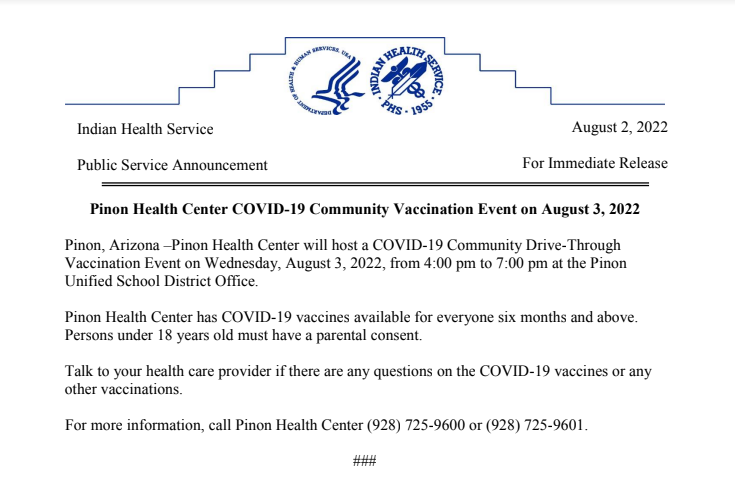 Greetings PUSD Community, We will be having school today, Monday, August 1, with buses running on our Mud Route schedule, main roads only. The Mud Route schedule is posted on our Facebook page and on our PUSD website if you have questions. Have a wonderful Monday!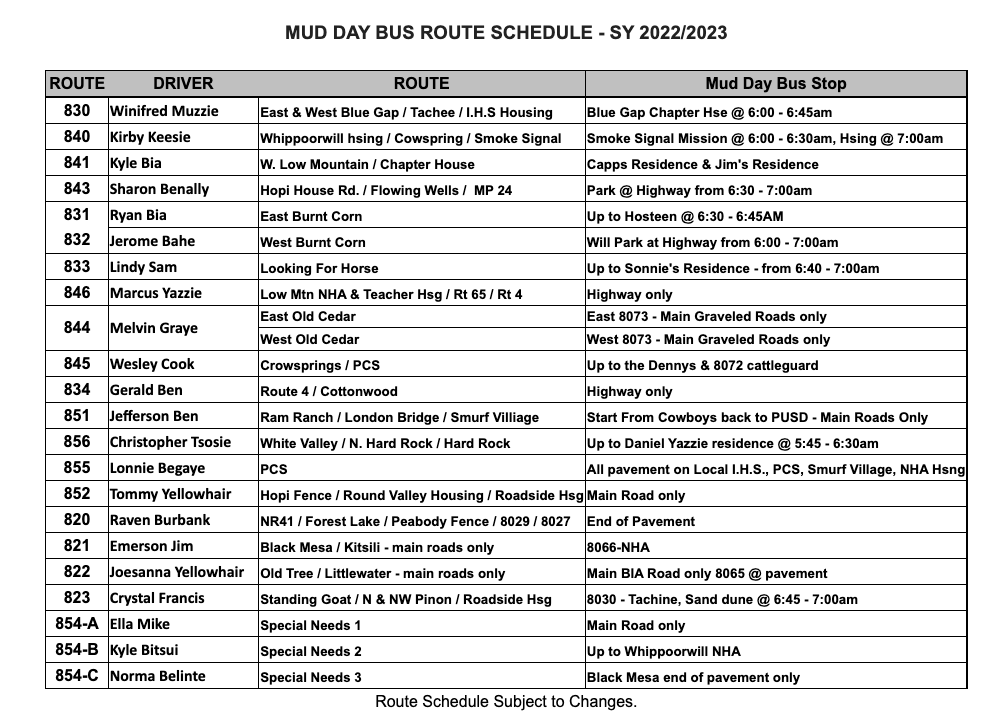 Greetings Pinon Unified Community- It's raining again! The plants love it! The animals love it! But our bus routes...not so much. Mud Day #2 on Friday, July 29 . No school for students and 10-month staff. Be safe! Don't enter flooded areas! Have some fun playing in the mud!

Greetings Pinon Unified Community- The blessings of rain have washed out many of our roads and bus routes. There will be no school on Thursday, July 28. Students and 10-month staff will be off for our first mud day. Be safe and stay dry!

Bus Route Schedules for SY 2022-2023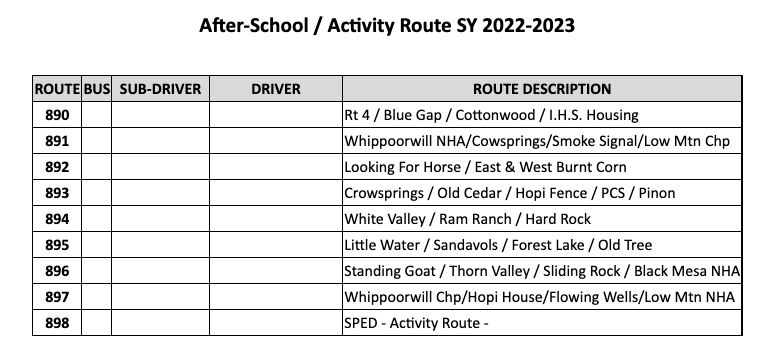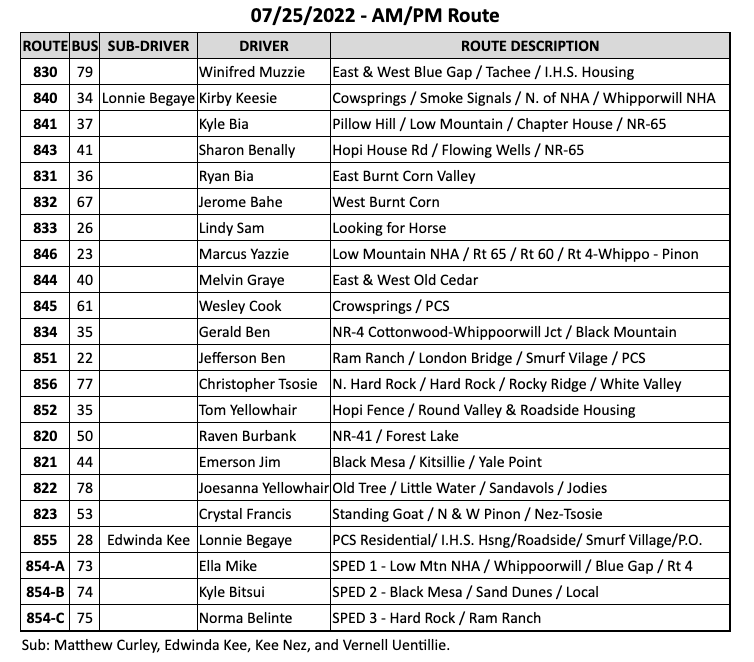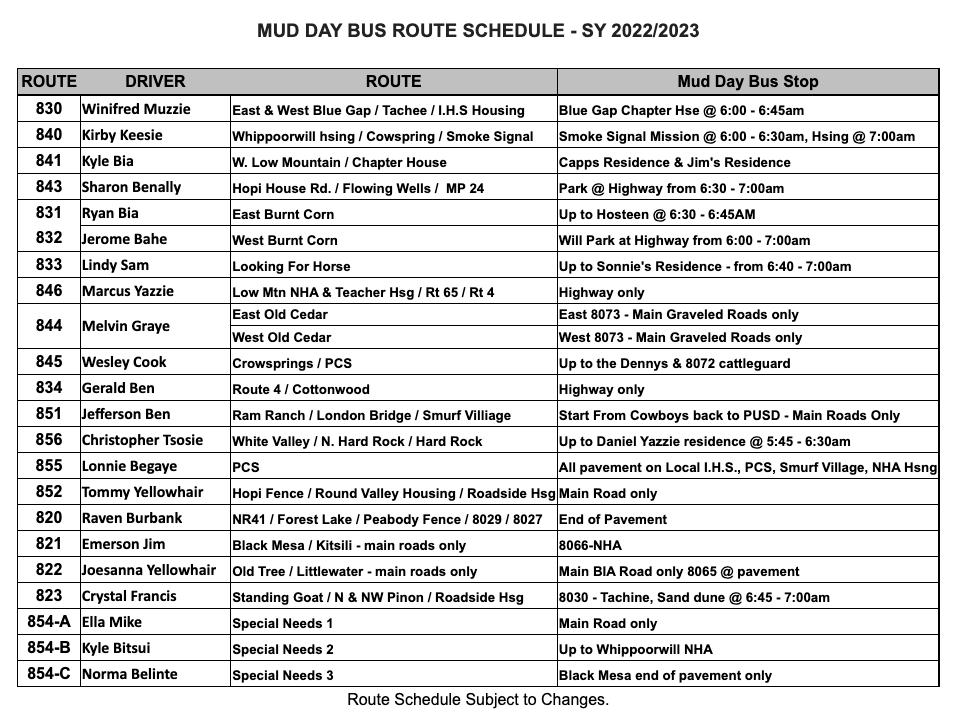 A message from Pinon Health Center: There Will Be A Drive Thru COVID-19 Community Vaccination Clinic at Pinon Health Center on Thursday, July 14, 2022 from 8:30 am - 11:30 am. COVID-19 Vaccinations Will Be Available ForAges 6 Months and Older. For more information, you may contact PHC at (928) 725-9600 or (928) 725-9601

Wings Of America Running & Fitness Camp sponsored by Pinon Clinic and IHS.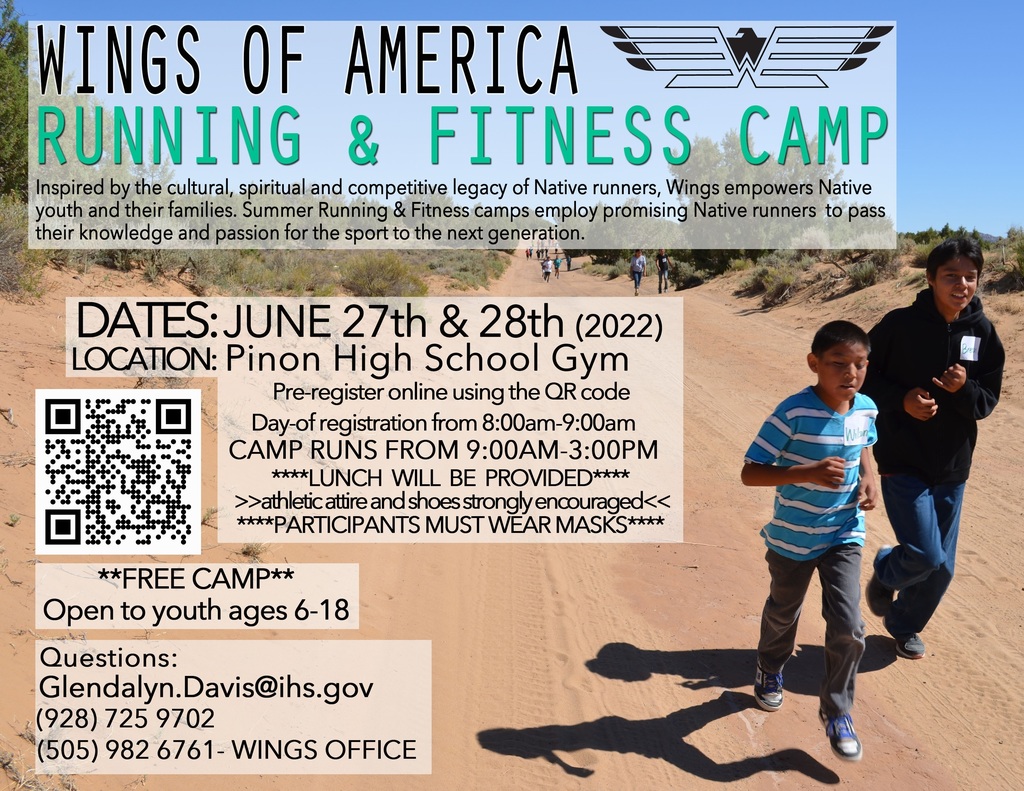 Pinon Unified will be on an early release schedule Wednesday, March 30 with buses running on main roads only. Parents will need to bring students out to main roads to meet the bus. There will be no after school activities.

PHS students Matkayla Begay, Kevin Benally, Kenneth Whitehorse Jr., Mikayla Kaye and PUSD Board Members Dorothy Yazzie, Bessie Allen and Miranda Bitsui are attending the NAFIS Conference in Washington DC.

Greetings PUSD Community, The Temporary Distance Learning option is scheduled to end on Friday, February 11. Beginning on Monday, February 14 all PUSD students will need to return to in person instruction on campus or be enrolled in our Pinon Eagles Online Academy. This follows the same direction as the other Arizona public schools on the Navajo Nation which also plan to return to on- campus instruction on February 11. If you have any questions or would like to switch to the Online Academy please contact the school offices. We want to finish the 3rd quarter with high attendance rates and strong academic achievement. All mitigation measures are still in place on campus including a requirement that all students and staff wear face coverings. New air purification systems are in place in PES and PAMS classrooms. PHS had new ventilation systems installed earlier this year. Please do not send your child to campus if they have any signs of illness or symptoms of COVID-19. Temperature checks and screening are still required to enter the school buildings or school buses. We strongly recommend students and staff participate in our weekly pooled COVID-19 testing each week on Wednesday. It is also recommended that all students ages five and up are fully vaccinated as soon as possible. Thank you for your support and we look forward to having all our students back on campus!

The Pinon Unified School Board meeting for February 2 will be rescheduled to a later date due to internet and telephone issues on campus. Thank you for your understanding.

Pinon Unified Community, we still do not have internet access on campus and telephone lines are not consistently working this afternoon. Parent Teacher Conferences for today will be rescheduled if you were not able to make contact today. Sorry for any inconvenience!