Greetings Pinon Unified Community, Happy Thursday! A reminder message from Pinon Health Center: Pinon Heath Center has COVID-19 vaccine available, Monday-Friday from 8:30am-4:30pm. Drive-Thru for First Dose--No Appointment Necessary! Second Doses are by appointment only. Phizer vaccine is for all individuals age 16+, Moderna vaccine is for all individuals age 18+. For more information or to schedule an appointment please call: CSU PIO Call Center: (928)674-7980 (Monday to Friday, 8am to 5pm, excluding holidays) OR Pinon Health Center Appointment Line (928)725-9605

A message from Pinon Health Center: Pinon Heath Center has COVID-19 vaccine available, Monday-Friday from 8:30am-4:30pm. Drive-Thru for First Dose--No Appointment Necessary Second Dose is by appointment only. Phizer is for all individuals age 16+, Moderna is for all individuals age 18+. CSU PIO Call Center: (928)674-7980 (Monday to Friday, 8am to 5pm, excluding holidays) Pinon Health Center Appointment Line (928)725-9605

Greetings students and parents, We are excited to share the virtual youth conference on March 3rd from 9 am to 3 pm. You can register for the event by using the following zoom link.
https://us02web.zoom.us/j/82878304004?pwd=SUJFQWxUYTJDWHZLVDBWTm1YT2t2UT09
Upon completion, you will receive the link to use to join the session. For students and families who don't have access to Zoom, you can still watch on the Pinon USD Facebook page. This event is in partnership with Designs for Learning, Chinle SASP, and Pinon DVPI. For more information, you can call (928) 725-2140 Federal Programs Office.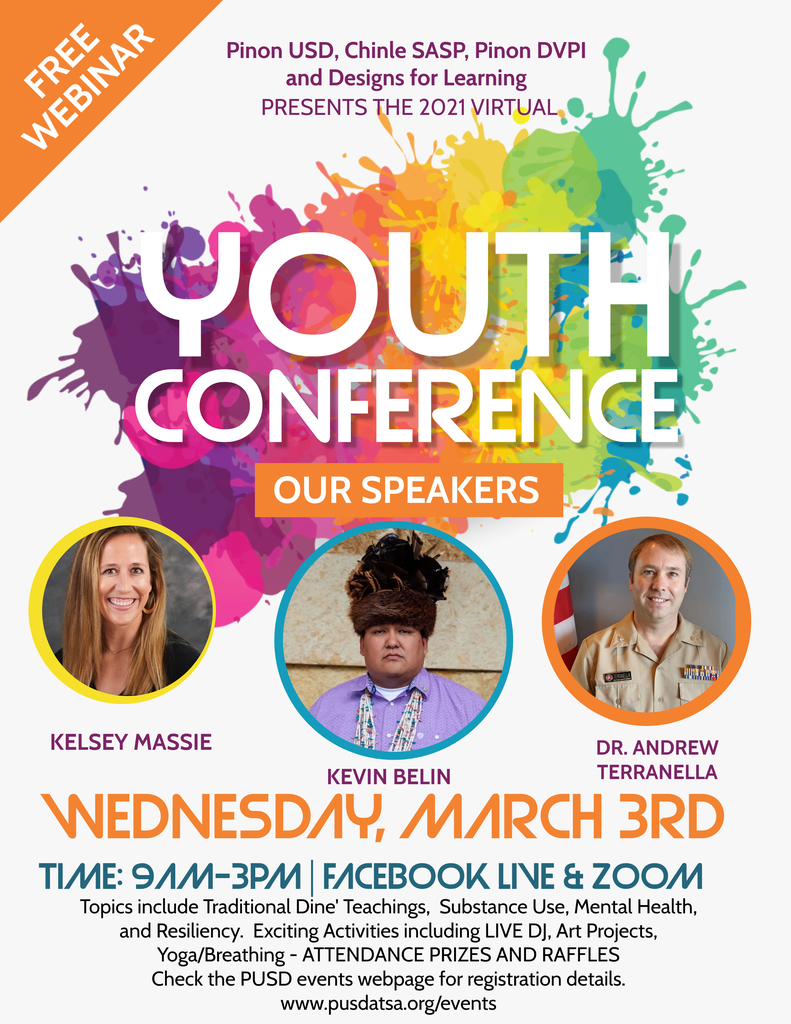 Greetings Pinon Unified Community, The PUSD Governing Board approved my request to extend distance learning through the end of 4th quarter. This extends our current plans and operations through the end of the school year. I know this isn't the "best" or the "normal' way to provide instructional and support services to our students. Online learning and instructional packets can be difficult and stressful for students and their families. I very much appreciate everything our families are doing to support our students during this time. We are an academic institution but we must consider health and safety to be the first priority. When the COVID-19 rates dropped last fall in Arizona and on Navajo Nation I was hopeful that we could begin on campus instruction in January. The rapid rise in cases in November through January made that impossible. The situation is looking much better with a decline in case numbers and vaccinations available, but we still must be careful that our campus does not become a "super spreader" of the virus. The new strains of the COVID virus seem to be easier to spread and also more dangerous for children. We do plan to start providing onsite support services once the Navajo Nation has lifted the shelter in place and curfew orders. The schools will be contacting you with more information as soon as we have a start date. Thank you again for your understanding and support! Superintendent Ostgaard

Health and Wellness Updates from the Pinon Elementary Nurse's Office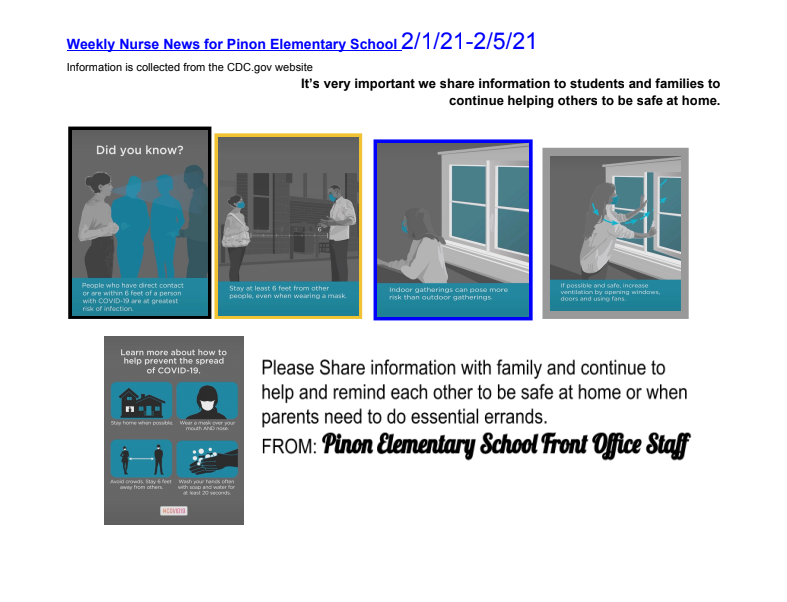 February is CTE Month!


Good Morning PUSD Community, Happy Friday! PUSD is currently having internet and phone service issues on campus. We are working to get back online ASAP. Online students can still access their Google Classrooms and attendance forms.

A message from Ms Chee, PAMS Prinicpal— Good morning! Phones and internet are down at PUSD. PAMS students can check-in via Google forms or an email to kyazzie@pusdatsa or
asherman@pusdatsa.org
Happy Friday! Stay safe, mask up, and stay warm. Live classes for today, Art & ELA Lab, will proceed as scheduled.

Correction to Previous Announcement: We WILL NOT run school buses on Tuesday, January 26 due to muddy road conditions.

Greetings Pinon Unified Community. We will run school buses on Tuesday, January 26 due to muddy road conditions. At this time, student meal drive-thru and WiFi access will be available on campus. More updates may follow based on the amount of snow fall tonight. Thank you!

Greetings Pinon Unified Community- A reminder that face masks are required while on the PUSD campus. This includes contact with our school buses while they are on routes out in the community. If we all work together we can stop COVID-19! Thank you for your support!

Updates from our Pinon Elementary School Nurse's Office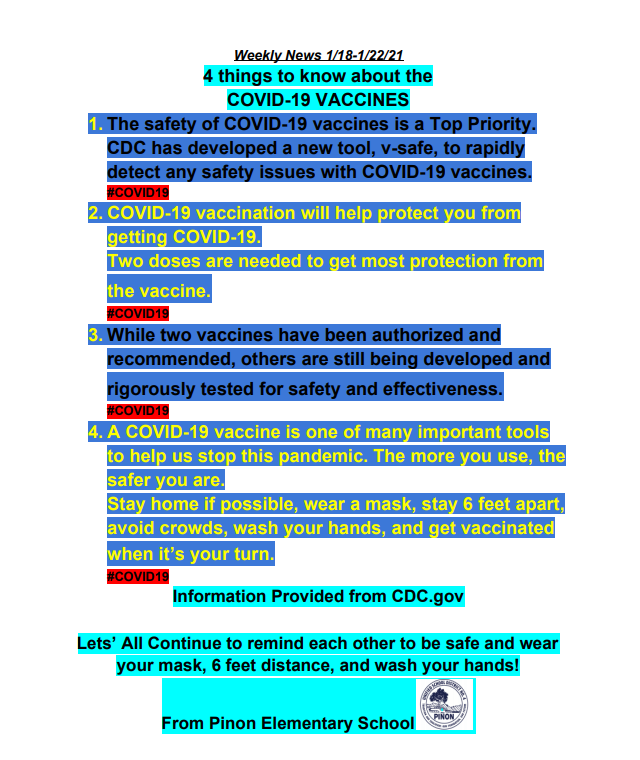 Greetings Pinon USD Students & Parents, For those enrolled in the Navajo Language and Culture classes at Pinon USD, an instructional packet distribution will take place in your local area on January 15, 2021. Please view the flyer for times and location. Mrs. Valencia Edgewater will be your point of contact, and remember to wear your mask when picking up your instructional packet. Please call (928) 725-2178 if you have any questions.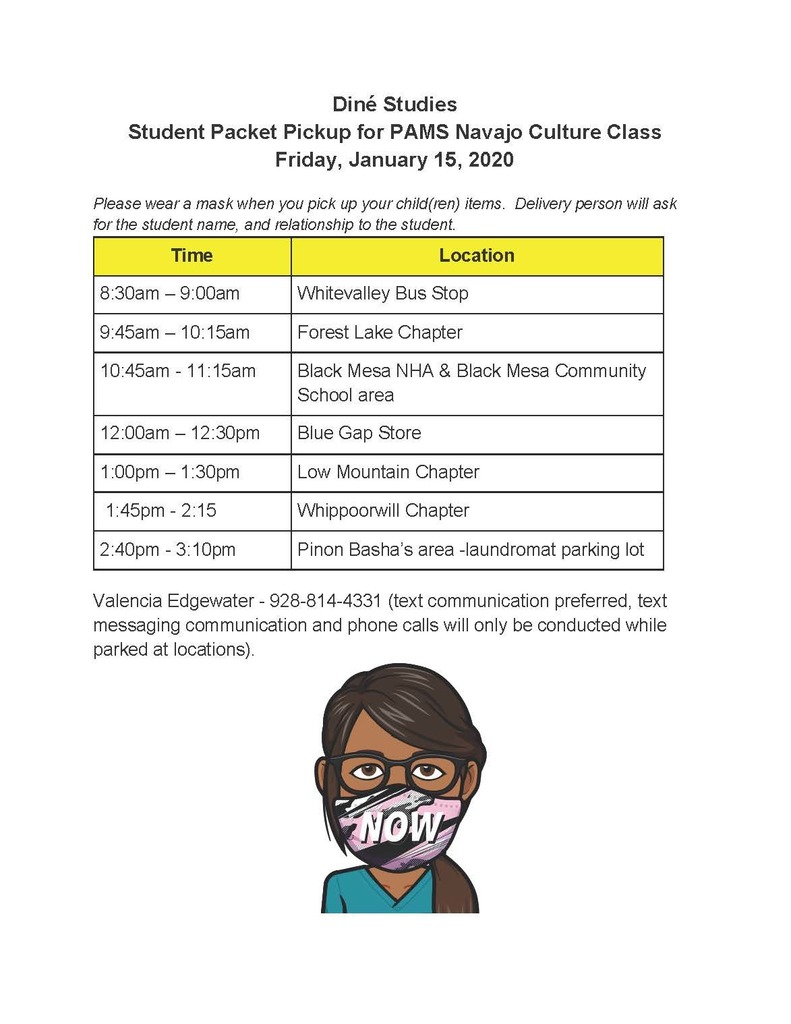 Ya'ah'teeh Keshmish! Happy Holidays from the PAMS Staff! 3rd Quarter begins January 4, 2021 PAMS Instructional Packets will be mailed out the week of December 21st. PAMS students have a new schedule for quarter 3, please check in your packet. 8th Grade parents were sent a letter in regards to 8th Grade Promotion requirements.


Greetings Pinon Unified Community, The Navajo Nation Department Of Education has asked that we share a link to a parent survey they are conducting regarding COVID and school services. It will close on Friday of this week.
https://s.surveyplanet.com/zOEOqSQQf

Yá'át'ééh nááná, Join us this evening for Diné Stories & Teachings Night. This evening we will have Mr. Robert Attson speak to us about the origin and history of the Native American Church on Navajo, what we call Azee' Bee Nahaghá. Below is the zoom link, please pass along this information to those who may be interested. Join Zoom Meeting
https://us02web.zoom.us/j/89915774521?pwd=SERuL0hvYTNqTnY4MHBSbTRRSWh2Zz09
Meeting ID: 899 1577 4521 Passcode: Yaateeh